Sir Paul Nurse received The Nobel Prize in Physiology or Medicine 2001 for his discoveries of key regulators of the cell cycle together with Leland Hartwell and Tim Hunt. According to the Nobel committee:
"From the beginning organisms evolve from one cell, which divides and becomes new cells that in turn divide. Eventually different types of cells are formed with different roles. For an organism to function and develop normally, cell division has to occur at a suitable pace. Paul Nurse has helped to show how the cell cycle is controlled. Through studies of yeast in the mid-1970s, he was able to show that a special gene [cdc2] plays a decisive role in several of the cell cycle's phases. In 1987 he identified a corresponding human gene [CDK1]." (Nobel prize organization)


Paul Nurse (2020)
What is life?
In 2020 Paul Nurse published What is Life? [1]. In the first chapters he explains biology for non-biologists: the cell, the gene, evolution, biochemistry, DNA. These chapters constitute the foundation for the final chapter in which he develops a definition of life. Almost casually Nurse tells about his discovery that led to the Nobel prize 20 years later. In the last chapter he defines life with 3 principles. Any entity which operates according to those three principles can be deemed to be alive.

The ability to evolve through natural selection. To evolve, living organisms must reproduce, they must have a hereditary system, and that hereditary system must exhibit variability. Any entity that has these features can and will evolve.

life forms are bounded, physical entities.

living entities are chemical, physical and informational machines. They construct their own metabolism and use it to maintain themselves, grow and reproduce. These living machines are co-ordinated and regulated by managing information, with the effect that living entities operate as purposeful wholes.

Whenever I encounter proposals for the definition for life, I can't help comparing them with the definition of life of the Hungarian theoretical biologist and biochemist Tibor Gánti. Years ago Gánti proposed a definition of life that stood the test of time. I refer to my description and discussion of Gánti's defitinition of life on my WDW website [1]. Reading and listening to Nurse made me thinking again about the definition of life.

The first principle, the ability to evolve, Nurse adopted from Nobelprizewinning geneticist Hermann Muller. According to Gánti evolvability belongs to the Potential life criteria. That means evolvability is not a necessary property of an entity to be alive. But Nurse does not make the distinction between actual (absolute) and potential life criteria. There are a few practical problems with his first principle. According to evolutionary biologist Szathmáry evolution is not a property of an individual, but of a population. Also, variability is not a property of an individual, but of a population. The principle also causes difficulties when applied to a somatic body cell of an animal or plant. All somatic body cells will eventually die when the organism dies, and they leave no descendants in the next generation. Nobody would deny that somatic cells are living. But at the same time one cannot say that somatic cells in your body have the evolvability property. Only germline cells are involved in reproduction. On the level of an animal there can be also a problem. Mules are infertile, so no reproduction and no evolvability, but they are alive. Finally one comment about evolvability. Nurse's first principle suggests that the only function of the hereditary subsystem is evolvability. Nurse does not state explicitly that the informational subsystem "is useful for the whole" (Gánti's 4th absolute life criterion) and controls metabolism.
His second principle is:'life forms are bounded, physical entities'. This equals Gánti's Chemical boundary system. What is the boundary? Unfortunately, the concept boundary is used in an ambiguous way. For cells the boundary is the cell membrane (animals) or cell wall (plants). But viruses have a capsid which is clearly distinct from the semi-permeable membrane of a cell. A capsid does not have the functions a cell membrane has. This has consequences.

His third principle is complex. It is almost a complete definition of life because two of the three Gánti subsystems are included: a Chemical information system (for example DNA) and a Chemical motor system (metabolism). Nurse also included growth and reproduction in his third principle. According to Gánti growth and reproduction are Potential life criteria. Adults don't grow, and a non-dividing cell –for example a neuron– is not dead. That's why growth and reproduction are not necessary for being alive. They are a potential characteristic of life. The properties 'co-ordinated and regulated' and 'maintain themselves' equal Gánti's third Absolute criterion: "A living system must be inherently stable".

Are viruses alive? We all agree that bacteria, plants and animals are alive. Paul Nurse says viruses are alive too. I disagree. The most important reason I think why viruses are not alive is that viruses are not cells and they never become cells. Not being a cell means not having a semi-permeable membrane which enables transport of molecules in and out of the cell. Since viruses are not cells, they don't know cell division. And they don't have Nurse's famous Nobel prize winning cdc2 gene. Viruses are a sort of stripped-down cells. Stripped down to the bare essentials: RNA or DNA with a protein coat.

Although Nurse's principles include an abstract 'boundary', in his talk he said: "the cell is the basic structural and functional unit of life" [3]. That is Robert Hooke's cell theory. Nurse is serious about the cell theory. Rightly so. In the first chapter The Cell: Biology's Atom he writes "What I mean by this is that cells are the smallest entities that have the core characteristic of life. (...) The cell is the simplest thing that can be said, definitely, to be alive" [5]. Since viruses are definitely smaller than cells, viruses cannot be alive. Viruses are dead RNA or DNA molecules!

In response to a question from the public Nurse says "viruses are dead outside the cell and alive inside a cell". This is a unsatisfying compromise. It reflects the fact that viruses outside a cell are chemically inert; they cannot defend themselves against outside disturbances and degradate by physical forces (UV light, heat,etc). They have no metabolism. They are passive entities subjected to physical forces. But in a cell they are active and replicate. But if Nurse wants to claim a replicating virus (which is just a piece of RNA or DNA) is alive, than a chromosome or nucleus must be alive too? Because a thousands times more DNA replication takes place during cell division. The property 'being alive' belongs to a higher level than molecular level. It is a property at the level of the cell. Just as being conscious is at the level of the whole organism, not at the neuron level.
A car is a vehicle on wheels, with an engine, steering wheel, gas pedal, brakes, fuel tank, seats, etc. that moves autonomously. If we strip the car of everything except the wheels, what do we get? Is it a stripped-down car or something quite different? Yes, the trailer is connected to a car and has wheels and it moves ... when attached to the car. Is that a reason to call a trailer a car? I admit: a trailer is an independent entity when disconnected, but then it doesn't move. Yes, a car is dependent on fuel which is not produced by the car itself. Does it mean we have a continuum from car to trailer? Of course we can subsume both car and trailer as non-overlapping subclasses in a higher order class called 'vehicles with wheels'. Cars and trailers share the property 'having wheels' without making them both cars.
Virus: a stripped down cell?

Similarly, do we call viruses alive just because they can be viewed as stripped down versions of a cell? Viruses are somehow connected the Tree of life. That's true. The most profound reason for this -I think- is that they use the same genetic code (the code that translates DNA sequences in to protein sequences) as all life. They need to have the same code, because otherwise their genes would be gibberish for the cell and they won't be able to replicate and produce new virus particles. Furthermore, viruses adapt to their hosts. For example the SARS-CoV-19 is perfectly adapted to the human ACE2 receptor. There is no doubt viruses are evolving entities. But one has to distinguish between evolving entities and living entities: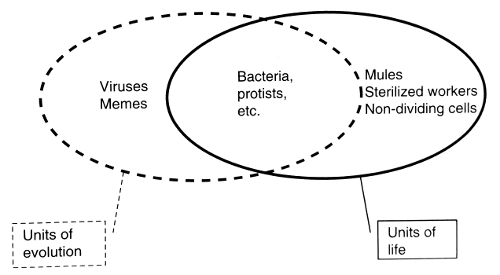 Viruses are evolving but not alive.
James Griesemer & Eörs Szathmáry [2].

When accepting the view that viruses are maximally stripped-down versions of cells, could we conclude from that that RNA or DNA are the bare essentials of evolution? The virus is a set of selfish genes. There you have it: the common property of cells and viruses is: replicating RNA or DNA. The classes of viruses and cells do not overlap, but are included in a higher class of replicating entities. Is this a rediscovery of the essence of Darwinism? I think so. It's all about replicating entities! Replicating entities that make errors and evolve. The 'units of life' are cellular. The 'units of evolution' are strings of DNA or RNA.
Concluding: Nurse is absolutely right that the cell is the simplest unit that can be said to be alive. We now understand why the cell is the smallest life form: only a cell can integrate the three necessary components of life: a semi-permeable boundary, a hereditary information system and a metabolism. A logical consequence is that a virus cannot be said to be alive, neither inside nor outside a cell. I disagree that this is an arbitrary decision. It just follows from the cell theory. Furthermore, Nurse is absolutely right about the profound interconnectedness of all life. And, I fully agree, viruses are intimately and necessary connected to life. They speak -so to say- the same language. But that does not make them living.

I thank Paul Nurse for writing such a stimulating book!
Notes
Paul Nurse (2020) What is Life. Understand Biology In Five Steps, David Fickling Books. It is a popular science book without footnotes, index, and literature list. -I don't know whether the hardback is illustrated, but my e-book is not. Here is a short interview with Paul Nurse about the book.

The Principles of Life. superior insights into the nature of life. (about Tibor Ganti'a definition of life.)

What is Life? Sir Paul Nurse - 2020 James Martin Memorial Lecture youtube 6 Mar 2020. Please note that being a cell is not included in his three principles.
Biography of Paul Nurse at Nobel website. Contains many interesting details about his life.

Paul Nurse: "What I mean by this is that cells are the smallest entities that have the core characteristic of life. This is the basis of what biologists call cell theory: to the best of our knowledge, everything that is alive on the planet is either a cell or made from a collection of cells. The cell is the simplest thing that can be said, definitely, to be alive". (22/360 e-book)
See also:

Paul Nurse: The Royal Institution 2019 lecture What is Life?